How often are meetings held, and what are the meetings all about?
Monthly meetings are held across the DFW area, combining Club business with food and fun. Non-members and visitors are always welcomed. Dogs are often a part of the activity.
How does the Club engage as a group to have fun?
Monthly meetings provide social time and networking and regularly include an opportunity to cook out, like the Chili Competition held typically in November. The Club frequently attends events at the Ballpark at Arlington and holds picnics at area lakes.
What does membership require, what is expected of members?
A genuine interest in the Bull Terrier Breed is expected from members, supporting our Club mission to promote responsible breeding according to the AKC standard, sportsmanlike competition and our overall love of the Breed. Dues are required and prospective members must attend two full meetings prior to consideration for membership.
Click here to download Membership Application
How do I become a member?
The Bull Terrier Club of Dallas is open to anyone with an interest in the breed. Acceptance of membership requires a sponsor, attending a minimum of two meetings, and a vote by the membership. Annual dues are available for single and family memberships. Use the Contact Us page to reach us for further information. A downloadable membership application is provided just above this paragraph.
What Volunteer Opportunities does the Club provide?
In addition to supporting Bull Terrier rescue, Volunteers help the Club organize community outreach events supporting larger events organized by the SPCA, the AKC and with local municipalities. Volunteers also help produce the Club newsletter Bully Times, the website, our Weekend Show Activities and fun outings like picnics and cook outs.
What are the Club's National and Local Affiliates?
The BTCD is a member organization of the Bull Terrier Club of America, a sister Club to the Texas Gulf Coast Bull Terrier Club, is a member of the Texas Combined Specialties Association and supports the Fort Worth Kennel Club and other kennel clubs across the region.
What is the "March Specialty?"
The BTCD organizes an annual dog show, in March each year, formerly held in conjunction with the Fort Worth Kennel Club and the Texas Combined Specialties Association. Now we hold an independent show on the weekend following the FWKC shows. Bull Terriers from around the world compete in our show. This is the best opportunity enthusiasts have across the region to see these dogs and interact with their owners and breeders.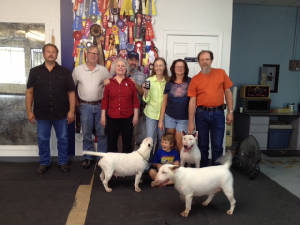 Club members at a recent meeting
Club Officers:
President: Susan Belden
V. Pres.: Rowdy Rodamaker
Secretary: Joanne Taft
Treasurer: Darren Hensley
Board of Directors:
Maribel Marquez
Nancy Rodamaker
Zoe Chance
postal: 962 Meadow Oaks Dr.
Arlington, TX 76010
email: btcdallas@hotmail.com
PayPal Option for Membership Renewals click below